Solar
Everyone's Doing Solar!
It's a hot world we live in and it's only going to get hotter. In the spirit of finding new, renewable ways to energize our homes, many people have been flocking to do solar installation San Diego projects. Since the 90's, this technology has continually improved and the cost to manufacture the equipment has immensely lowered as well. Many articles online talk about how the solar industry has only gotten hotter, as you'll find in this helpful graph below.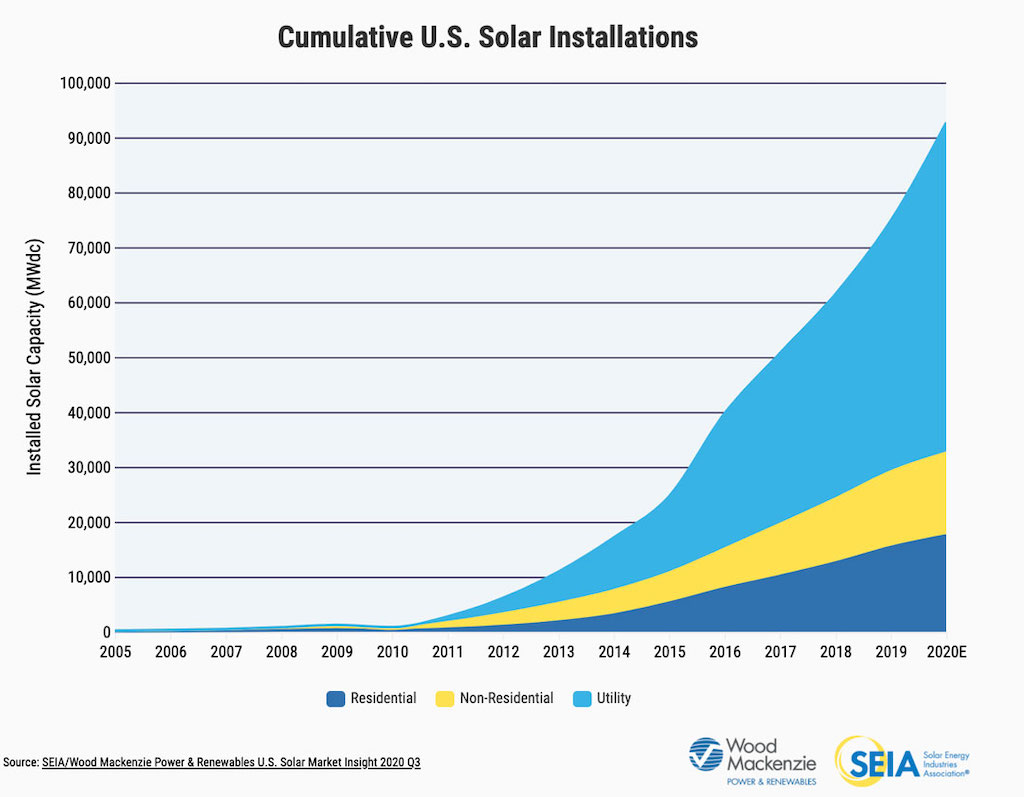 Since the demand from homeowners is increasing every year, the supply from hungry entrepreneurs has also been improving. There's a catch with this though. If there are a bunch of entrepreneurs who are looking to make big bucks in a growing industry, then there's also plenty of newbies who have no idea what they are doing with solar installation San Diego work. Sure, you've got companies that have been around for a while, but there's lots of other guys out there. 
Which company do you pick then? Choose Massella Electric. Duh!
Massella Electric has been an increasingly popular name in the city of San Diego. Led by a fun-loving, friendly leader, Aaron Massella, this team continues to deliver time and time again for plenty of loyal and new customers in San Diego. As he keeps executing jobs, the online fanfare and reviews keep improving too. That's why we've officially become one of the top five options in electrical work on Google, throughout the entire city. While we will dive into details about why you should install a solar system, if you have any questions about whether your property is a great place for electrical improvements and a solar system, then feel free to JUST CALL US! You can also fill out the form for a specific solar installation San Diego quote.
Is Solar Really a Good Idea?
For most residents in the city of San Diego, and most commercial buildings in the region, installing solar panels is a great idea. If you were to Google "San Diego Solar Energy", you'll find that the approximate savings you will have as a result of installing solar is $40,000. That's big money! This is especially true when California is getting crazier and crazier with its cost of living. It's definitely a good idea not only for the monetary value, but also the value it gives to the Earth. Here's a few more reasons why getting solar energy installed on your property is a great idea:
Avoid Increasing Utility Energy Rates
The price of everything continually increases. On average, inflation goes up about 2% to 3% each year in the economy. These increases include utility and electric bills. So if you were to stretch this out into ten years, you would have your utility bills increase by 20% to 30%!
By installing solar energy onto your home or your commercial building, you're telling the electric companies that you don't need them anymore. So for solar installation San Diego, you'll basically be paying for your solar financing instead of your electric bill. But once the financing is over, you won't be paying anything for your electricity, which saves you hundreds of dollars every month!
Do Your Part For the Planet
You'll be doing your part for the planet by installing solar energy. It involves no carbon emissions and let's you harvest energy naturally from the sun. Why contribute to the funding of drilling into the ground for resources that will eventually run out? So by calling Massella Electric to do a solar installation San Diego project, you'll be doing your part for our home on Earth.
Get Easy Financing to Make This Affordable
The prices for solar work have gone down dramatically. Below we feature a graph that illustrates the average costs of installing a solar roof. Ten years ago, you would likely be paying double for your installing solar panels, and by the time you finally paid it off, you would likely need to replace them again! Through the solar panels that we install at Massella Electric, you can affordably get clean energy and it only takes you 5 years to pay it off. Totally worth the investment!
If you need financing options for your solar project, get ahead of us and we'll refer you to a couple financing companies that we trust!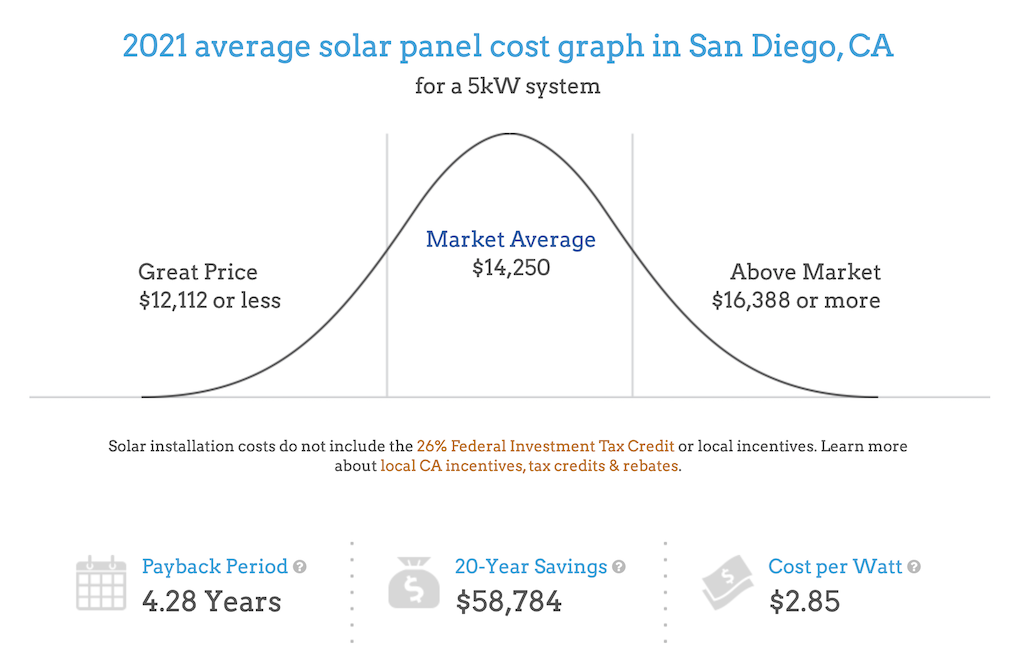 Avoid Problems From Other Solar Installation San Diego Companies
As I mentioned before, there are lots of solar companies in San Diego. California is one of the primary states for solar energy consumption, so there's plenty of people to pick from. While you could obviously work with Massella Electric on your project (and we'd REALLY prefer that), here's some of the things to look out for when choosing a good solar installation company.
Inexperience
If it's a brand new solar installation company that's just breaking into the field, you run the risk of inexperience. And sure, they might do the installation work for barely any profit, but do you really want to run the risk of paying tens of thousands of dollars, and then find out that the work was done poorly? I don't think so. If you work with Massella Electric, we've done this time and time again, and we're licensed electricians too! If you work with an inexperienced crew, they could cause loads of other problems like losing electrical connections, causing leaky roofs or installing cheaper solar panels that aren't efficient.
Slow Solar Installation San Diego
Also, ask the team how long it will take to install your solar panels. One of the biggest complaints in construction and contracting is how slow everything takes. You need your solar work done quickly, so you can finally stop paying the utility company! If they keep lollygagging and making excuses about why they can't get it done right, then just call Massella Electric. We'll happily take care of your today!